Tony Boyd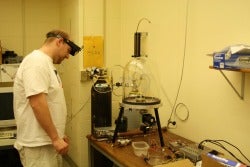 Tony Boyd graduated from Georgetown in May 2005, and enrolled in the physics graduate program the following fall. As a student in the Industrial Leadership in Physics program, he completed three semesters of coursework, followed by an off-site apprenticeship.
Tony took advantage of one of many of the opportunities in physics in the D.C. area, and completed an apprenticeship at the Army Research Lab, which is located just outside of D.C in Adelphi, Maryland. During the apprenticeship, Tony met people working in industry in the D.C. area and learned new laboratory techniques.
"It exposed me to a lot of techniques that are certainly becoming more important now," Tony says. "I did a lot of clean room work."
Tony returned to Georgetown to work on his thesis in the research group of Dr. Paola Barbara. His research focuses on the change in the conductance of carbon nanotubes when they are exposed to gas. This is an extension of the research Tony did as an undergraduate at Georgetown.
"I'm moving from a single nanotube to multiple nanotubes to see if that changes the gas sensing mechanism," he says.
Tony was drawn to Georgetown by the ILP program's business focus. He knew that he did not want to work in academia, yet he was still interested in pursuing a graduate degree in physics. Georgetown proved to be the ideal fit.
"It's one of the few business-related programs out there," he says.
Another plus was Georgetown's location—Washington, DC is the place to be for someone who, like Tony, hopes to work for a government contractor.