Student Profiles
Welcome the Class of 2018!
Willie Beeson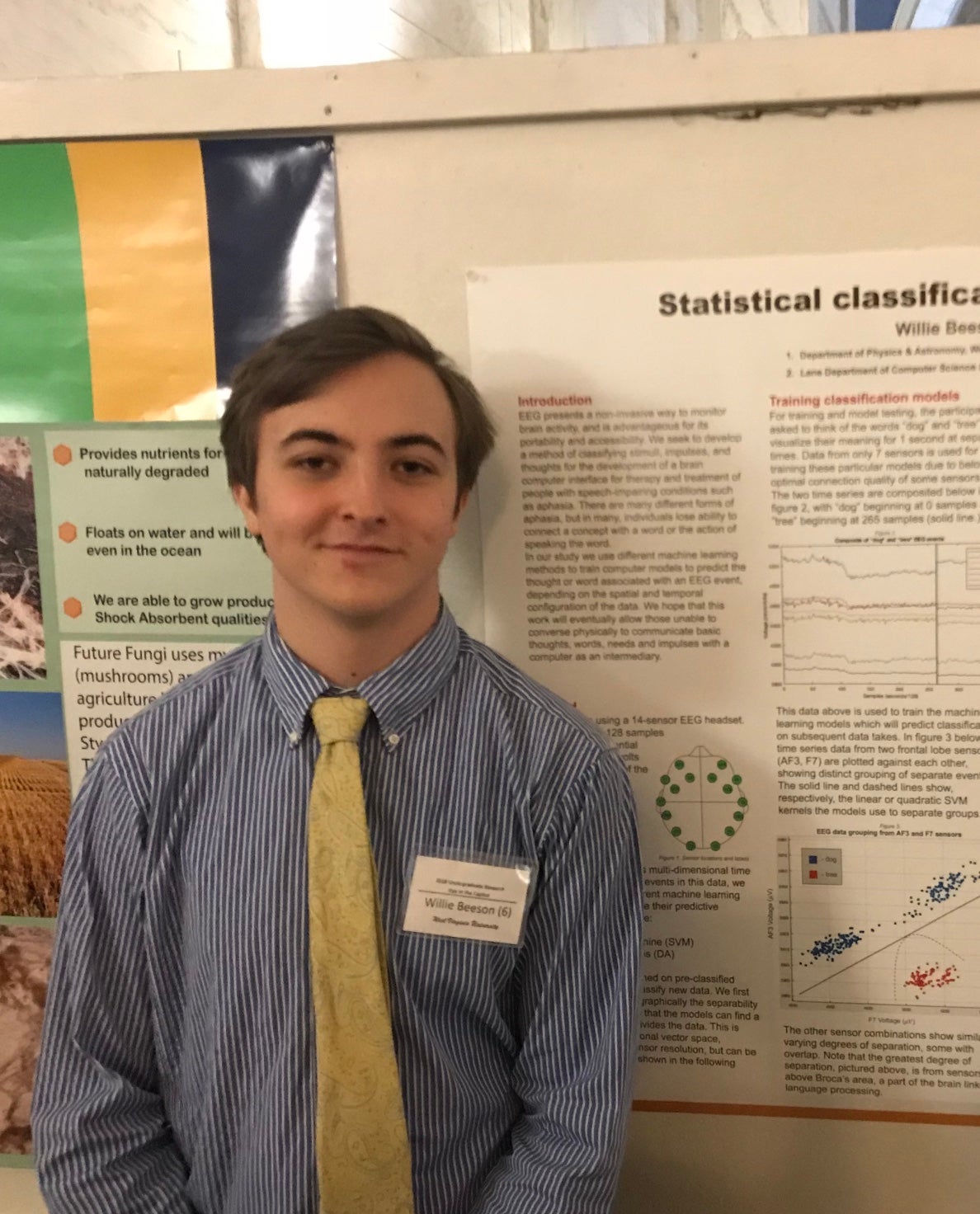 Willie was born in San Diego, California in 1996 and moved to Morgantown, West Virginia shortly after. There Willie graduated high school and began studying physics at West Virginia University in 2014. As an undergraduate, Willie began research working in gravitational wave astronomy, and later began research in condensed matter, including integrated circuits and crystallography. Willie was also a member of an interdisciplinary research group studying statistical analysis in neuroscience, and worked as a teaching assistant in introductory physics courses for 2 years.
DaVonne Henry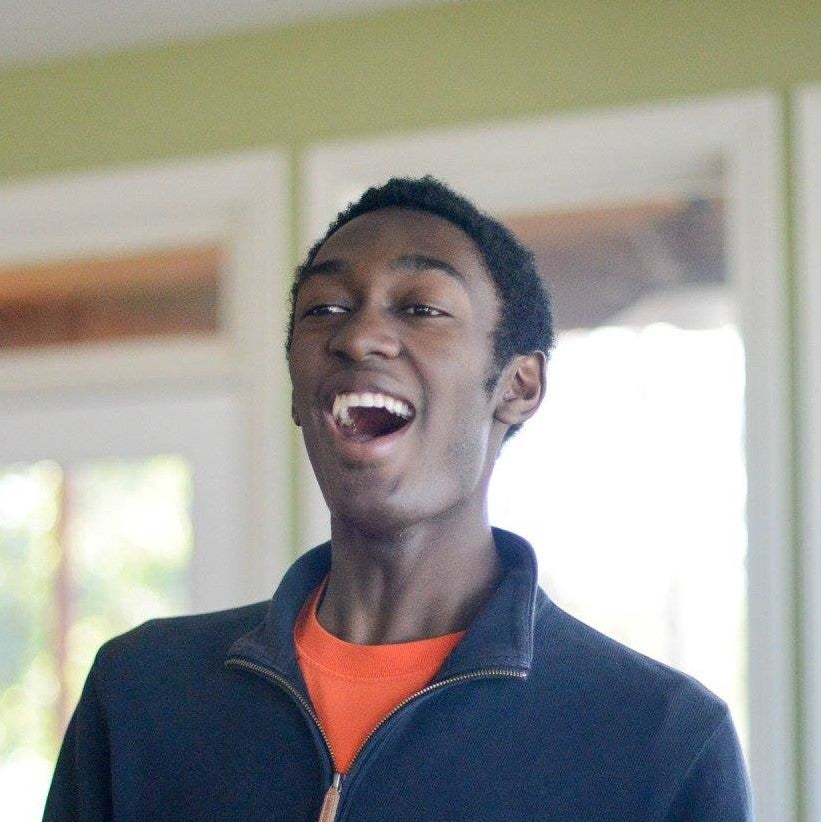 DaVonne graduated from Carnegie Mellon University with a B.S. in Mechanical Engineering and an additional major in Physics. He completed an REU in the summer of 2016 at the University of Pennsylvania where he explored the applicability of hyperspectral techniques on precision agriculture. At CMU, he was an active member of A Cappella and served as a Residential Assistant and Community Advisor. Currently, his interests include 2D materials and Physics education.
Lougen (Logan) Xu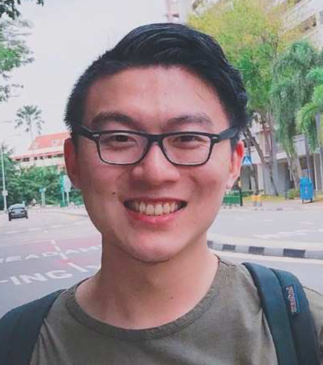 Logan graduated from the University of Wisconsin – Eau Claire in December 2017 with a B.Sc. in Physics and a minor in mathematics. During his time at UW Eau Claire, he designed and assembled an apparatus to facilitate measurements that are more accurate. His final capstone project focused on the development of codes for comparing the bipolaron model and the electron-hole pair model in explaining the magnetoresistance of organic semiconductors. He served as TA and RA for two and half years in his undergraduate institute and taught high school students AP Physics and Calculus back in China after graduation. He is a fan of American football and real football (soccer). In his spare time, he loves cooking, reading detective stories, and petting his cat. His current interest is theoretical and computational physics.
Students at various stages of the program
Kara Googins, Class of 2015

The Graduate Program at Georgetown was the right fit for me because it is was a small, collaborative and welcoming community that provided each student with the resources they need to be successful. I really appreciated that each graduate student is treated as an important and contributing member to the department. The Department has found the right mix of students that combines intellectual achievement, unique personalities and diverse interests outside of physics.
Abhay Goyal, Class of 2014

The Georgetown physics program turned out to be everything I hoped for in grad school. The small but tight-knit community is both welcoming and encouraging, and the research they do is really interesting! Best of all, the friendly atmosphere and the lab rotations give you the opportunity to explore a variety of research topics.
Matt Sartucci, Class of 2013

The community here at Georgetown is very close-knit and personable. It emphasizes collaborations and support from faculty and experienced research staff. The result is that graduate students are valued and encouraged to take advantage of the many available opportunities, both for research and career development.
Past Students
Pasha Tabatabai, Post-Doctoral Fellow In The Laboratory Of Living Matter At Yale University
Tingting Li, IPRO, PLLC
Chen Zhao, Amphastar Pharmaceuticals

Tabitha Yewer, Associate at Anderson Tax
Rich Arevalo, Academic Advisor at Empire Edge
Natalia Borjemscaia, Engineer at IBM
Tony Boyd, Research Fellow at the Naval Research Laboratory
Jesus Cruz-Rojas, Engineer at Netscout
Isha Dube,  Engineer at Intel Corporation
Yizhi Ge, Manager at Lockheed Martin
Simon Hale, Engineer at IBM
Michael Helle, Researcher at Naval Research Laboratory
Kai He, Scientist at NOAA
Pramukta Kumar, Founder/CTO of Timbr.io
Yian Liu, Engineer at Globalfoundries
Armstrong Mbi, Professor at the American University
Russel Ross, Lead Technologist at Booz-Allen Hamilton
Julie Schoening, Analyst at the Commodity Futures Trading Commission
Wen Shen, Financial Engineer at Fannie Mae
Misha Smirnov, Post-Doctoral Fellow AT THE Max Planck Florida Institute for Neuroscience
Baoming Tang, Data Scientist at Twitter
Becky Van Pelt, Scientist at Areté Industries
Yanfei Yang, Research Associate at NIST
Joseph York, Manager at AIP