Prof. Kai Liu recognized by the 2023 Gap Fund and Earth Commons Impact Awards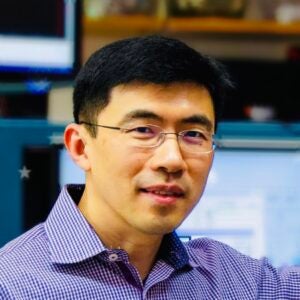 Georgetown University has recognized Prof. Kai Liu for his work in materials innovation and sustainability, as he garners both the 2023 Gap Fund and Earth Commons Impact Awards.
Prof. Liu's research group have previously unveiled the remarkable potential of lightweight yet robust copper nanowire foams, which have been demonstrated to be highly efficient particulate filtration media. These advancements led to the selection of his team in 2021 as a Phase 1 Winner and subsequently in 2022 a Phase 2 Finalist of the BARDA-NIOSH Mask Innovation Challenge.
This summer, the Office of Technology Commercialization and the Office of Advancement have selected Prof. Liu as a recipient of the 2023 Gap Fund awards. The funds are designed to provide crucial support to innovative research projects with high commercial potential that bridge the gap between cutting-edge research and real-world applications, address important scientific challenges and pave the way for significant advancements in the field.
"We very much appreciate the Gap Fund support, which comes at a critical juncture of our technology development, in bridging the gap between fundamental materials research and prototype demonstration. It will allow us to demonstrate a smart metal-foam-based platform that combines multiple functionalities for air filtration and cleaning," said Liu.
Liu will also explore the use of such metal foams as potential electrocatalysts to mitigate greenhouse gases, together with Prof. YuYe Tong in the Chemistry Department and Prof. Dejun Chen in the Environmental Metrology & Policy Program. The team has been awarded a 2023 Earth Commons Impact Award. Their pilot project aims to develop nanoporous copper-based bimetallic foams as a novel platform of electrocatalysts to neutralize harmful environmental stressors. It leverages the complementary strengths of Liu's materials synthesis and engineering and Tong's electrocatalysis laboratories.
To cap off an exciting summer, Liu was recently inducted as Fellow of the National Academy of Inventors at the Academy's 2023 Annual Meeting in Washington DC, for his "exceptional accomplishments in innovation and invention to benefit society".