Alumna Who Discovered Evidence of Dark Matter Inspires Global Symposium
Posted in News Story
June 28, 2019 – A symposium honoring Vera Rubin (G'54), one of the most important American astrophysicists of the 20th century, took place this week at Georgetown, where she received a Ph.D. and began her career as a researcher and professor.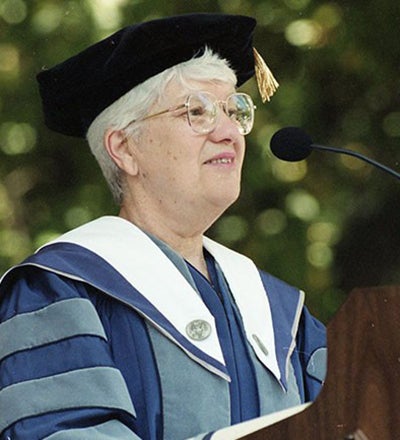 Rubin, who passed away in 2016, pioneered the study of galaxy rotation rates that provided definitive evidence for the existence of dark matter and was also a strong advocate for women in science.
She was one of the first women to receive a doctoral degree at the university.
"We were honored to host this impressive collection of leading researchers who presented the latest developments in the field and their connection to Dr. Rubin's discoveries," said Ali Whitmer, associate vice president for strategic initiatives.
Other activities at the June 24-26 symposium included a keynote lecture by Princeton University Professor Neta Bahcall for the general public at the Carnegie Institution for Science, an on-campus poster session and a workshop to address current issues facing women in science.
The symposium took place on Georgetown's campus and was jointly sponsored with Stockholm University, via the Oskar Klein Centre for Cosmoparticle Physics, with additional support from the National Science Foundation, the Heising-Simons Foundation and The Clare Boothe Luce Program of the Henry Luce Foundation.
Please click here to read more about the Vera Rubin Symposium!