Makarand Paranjape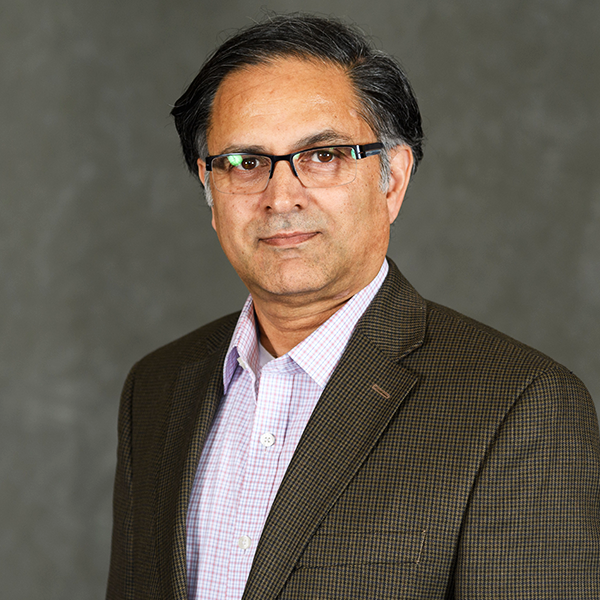 Associate Professor
430 Regents Hall
Telephone: (202) 687-6231
E-mail: paranjam@georgetown.edu
Makarand (Mak) Paranjape is an Associate Professor in the Physics Department, having joined the faculty in 1998. His formal background and training is in Electrical Engineering, and he received his Ph.D. from the University of Alberta (Edmonton) in 1993, and was a post-doctoral researcher at Concordia University (Montreal), Simon Fraser University (Vancouver), and the University of California (Berkeley). In 1995, Paranjape held a consulting position for 3 years at the Istituto per la Ricerca Scientifica e Tecnologica (IRST) in Trento Italy. Paranjape has extensive microfabrication experience having worked at facilities including the Berkeley Sensor and Actuator Center (BSAC), the Alberta Microelectronic Centre (AMC), and the standard CMOS-MEMS facility at IRST. Paranjape is an inventor of a unique biomedical technology for sensing human glucose concentrations using a blood-free, pain-free transdermal patch, and holds key intellectual property on the technology. He has served on review panels for the National Science Foundation (NSF), the National Institutes of Health (NIH), the Natural Sciences and Engineering Research Council of Canada (NSERC), the US Food and Drug Administration (FDA), US Defense Threat Reduction Agency (DTRA), and the Austrian Science Fund (FWF Der Wissenschaftsfonds). Paranjape is Associate Editor for Biomedical Microdevices and an editorial board member for Sensors and Materials.
Paranjape's research focuses on the engineering of functional sensors for biomedical applications that are fabricated in the Georgetown Nanoscience and Microtechnology Laboratory (GNμLab), which uses the same equipment and technologies associated with the production of integrated circuits. Prof. Paranjape has a track record of involving all levels of undergraduates, graduate students, post-doctoral fellows, and even high-school students in many aspects of his research.
Current Research
Nanotechnology
carbon nanotube (CNT) field emission tips
dielectrophoretic assembly of CNTs at the wafer-scale
CNT field effect transistors (CNT-FETs) and sensors (chemical and biological)
electron beam lithography (EBL) for nanoscale critical dimensions
electrospinning of nanoscale polymer fibers using high electric fields
novel disk diffusion experiments to evaluate new antibiotic treatments
paramagnetic ferrofluid applications
capped gold nanoparticle sensors
Biomedical Engineering
non-invasive biomolecular detection (e.g. glucose) using a blood-free transdermal patch
an integrated, microfluidic cell transfection device for injecting biomaterials into cells
non-invasive sensor for assessing urodynamic dysfunction in males
polymer substrate to assess Giardia lamblia (stomach parasite) attachment mechanisms
bone density and bone loss studies in zero-gravity environments
piezoelectric micro-/nano-cantilevers for bio-sensing & alternative medicine diagnostics
polymer microfluidic systems co-integrated with optical waveguides
novel fabrication techniques using immersion lithography
Current Teaching
Undergraduate Courses:
Intermediate Electricity and Magnetism Lab (PHYS-252)
Graduate Courses:
Digital Electronics (PHYS-517)
Selected Publications
J. Zhou and M. Paranjape, Novel In-situ Decoration of Single-Walled Carbon Nanotube Transistors with Metal Nanoparticles, Journal of Nanoscience and Nanotechnology, accepted for publication, 2009.
A. H. Monica, S. J. Papadakis, G. L. Coles, R. Osiander, and M. Paranjape, A lateral carbon nanotube based field emission triode, Jour. Vac. Sci. and Tech. B 26(2), 2008.
A. H. Monica, S. J. Papadakis, R. Osiander, and M. Paranjape, Wafer-Level Assembly of Carbon Nanotube Networks Using Dielectrophoresis, Nanotechnology 19, 2008.
V. Spinella-Mamo and M. Paranjape, Using Genetic Algorithms to Characterize Ferrofluid Topographies in Externally Applied Magnetic Fields, Journal of Magnetism and Magnetic Materials 321(4), 2008.
J. Zhang, A. Boyd, A. Tselev, M. Paranjape, and P. Barbara, Mechanism of NO2 Detection in Carbon Nanotube Field Effect Transistor Chemical Sensors, Appl. Phys. Lett. 88(12), 2006.
C. Luo, X. Liu, R. Poddar, J. Garra, A. Gadre, E. Van Keuren, T. Schneider, R. White, J. Currie, and M. Paranjape, Thermal Ablation of PMMA for Water Release Using a Microheater, Jour. of Micromechanics and Microengineering 16(3), 2006.
A. Gadre, A. Nijdam, J. Garra, A. Monica, M. Cheng, C. Luo, Y. Srivastava, T. Schneider, T. Long, R. White, M. Paranjape, and J. Currie, Fabrication of a Fluid Encapsulated Dermal Patch Using Multi-Layered SU-8, Sensors and Actuators A 114, 2004.
J. Currie, M. Paranjape, C. Peck, R. White, and T. Schneider, Systems and Methods for Monitoring Health and Delivering Drugs Transdermally, U.S. Patent #6,887,202.
My full publication list is given here.